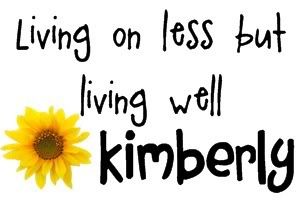 I will admit that when it comes to home furnishings, my tastes are a bit eclectic. I like a little bit of everything. My home is a mixture of items I love and not a mixture of items that fit into one neat category. One type of furnishing style that I like is country/farmhouse/country primitive. So when Jane of KoUntRy Kreations
asked me to review one of her items, I most certainly jumped at the opportunity.
Jane of  KoUntRy Kreations makes country primitive items that are inspired by her surroundings in rural West Virginia. She makes each item by hand and puts her heart and soul into what she creates. I know she has a great heart because she makes and donates quilts to the local cancer center. Jane and her group of fellow quilters (SlapHappy Quilters) have made and donated over 150 quilts in one year. These quilts help keep the patients warm during their chemotherapy and radiation treatments (we all know how cold hospitals can be and Jane knows this firsthand as she is a cancer survivor herself). Jane of KoUntRy Kreations also makes and donates blankets to battered women's shelters, homeless shelters, and other organizations through her church.
For my review, Jane sent me a Hand-Crocheted Kitchen Towel. Here is a picture of the one I received:
Before using the kitchen towel, I laundered it in the washing machine using the gentle cycle. I have no doubt that this towel could withstand a normal cycle but due to the hand crocheted nature of the item, I wanted to be careful and also help to extend the life of the towel. The kitchen towel washed well and there was no fading of color. The hand crocheted portion of the towel is done in a tight pattern to ensure durability. The portion of the towel that is attached to the crochet is double stitched to ensure that there is no loosening of threads. I have washed my towel twice (using cold water) and there is no evidence of the crocheted portion coming loose nor of any loosening of stitches.
In addition, it has been nice finally having a towel that I can attach to my drawer knobs as the ones currently hanging on my oven door handle always seems to fall on the floor. On a more personal note, this style of towel reminds me of my childhood as my grandmother had several hand crocheted towels in her kitchen. I guess it's no coincidence that my grandmother also lived in West Virginia. Overall, I am very happy with the durability, style, and ease of use that this towel presents. And for less than $10 shipped, I find this towel very affordable and I expect it will last for several years to come.
If you like country primitive hand made items like I do, then I suggest you check out KoUntRy Kreations. While there, you will find other items listed such as quilts, pot holders, eyeglass cases, sachet pillows, embroidered pillows, fragrance jars, wall hangings, and baby/children's items (inspired by Jane's new grandbaby). All items are reasonably priced and one of a kind.
Since Jane has such a giving soul, she would like to give away one of her Hand-Crocheted Kitchen Towels similar to the one I reviewed. Here is a picture of the one you could win:
This will certainly match any kitchen decor. Want to win? Here is what you need to do:
Mandatory Entries–
1) "LIKE" KoUntRy Kreations on Facebook and leave a note thanking Jane for this giveaway.
     Leave a comment on this post stating that you have done so.
2) You must be a follower of this blog~ 
   (either thru Facebook, Email, Google Friend Connect,Networked Blogs, or RSS Feed).
    Leave one comment stating how you follow Living On Limited Income.


Bonus Entry–
1) Publicly follow me on Google Friend Connect. If you are already following me on GFC, leave one comment with your user name. If you become a new follower, leave one comment with your new user name. 




This giveaway is open to US and Canadian residents. Giveaway ends at 11 pm EST on December 10, 2010. A winner will be chosen via random.org and entry information will be verified before a winner is announced.






*****I was not compensated to review this product and all opinions expressed are based on my own experience.